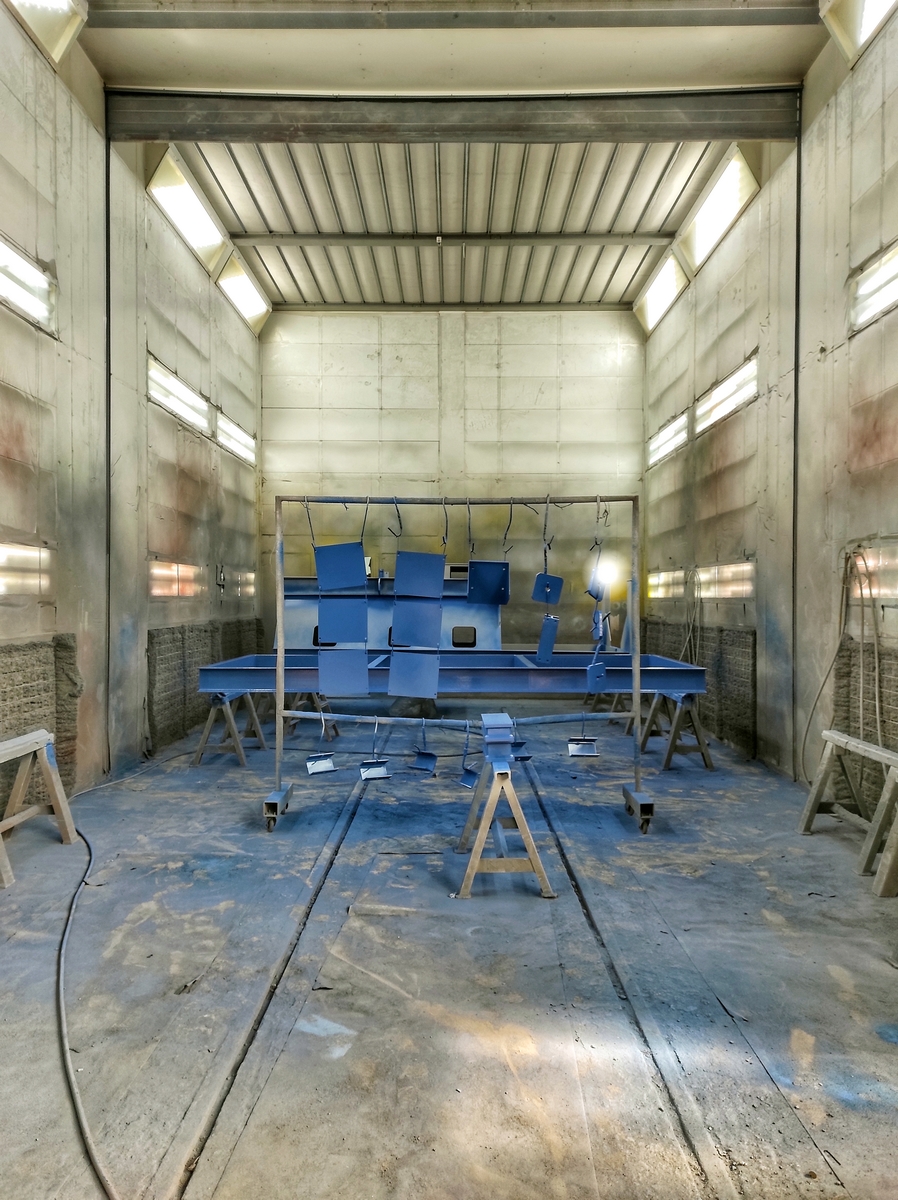 Sursys has a state-of-the-art spray booth that meets all environmental requirements, measuring 12 m in length, 6 m in width and 6 m in height, and a blasting booth of the same dimensions.
We use professional equipment and expert staff for painting of metal and steel structures. Our employees are specialists in the field of painting and their experience has been gained over the years on the largest and most demanding projects. We continuously train our staff by providing them various courses in the field of painting steel structures. We have been tackling the challenges of today's industry for years, gaining new and satisfied customers.
Paint for steel structures
Primers and surface paints protect metals against atmospheric effects (humidity), prolonging their durability and aesthetic appearance. When it comes to painting steel structures, you can choose from paint systems based on acrylic, alkyd, epoxy or polyurethane paints. The way they are applied depends on the type of structure, but it usually requires several layers of paint with the appropriate thickness of paint film. Paints are used when the corrosivity category C2 or C3 has been specified, and the need for the protection and painting of steel structures is defined by the European standard for the protection and painting of structures.
Cleaning of steel structures
Steel structures are exposed to processes and factors that accelerate the corrosion. It is therefore so important to periodically inspect the surface condition of the structure and clean it regularly. This preserves the structures in an excellent condition, prolonging their lifespan and eliminating the need for renovation. Professional cleaning of steel structures allows rust to be thoroughly removed, reducing the need for maintenance repairs. When cleaning the structure, all kinds of contaminants are removed, including old coatings. What is important, is that only a professionally cleaned surface can be painted or varnished with anti-corrosive properties.
Cleaning is performed with effective high-pressure technology that is completely safe to the surface. It can also get to the hard-to-reach places
Spray painting of steel structures
We work according to strictly defined procedures and the stages of our work include:
Cleaning of steel structures from signs of corrosion, i.e. removal of loose rust and deposits
Surface cleaning and degreasing of steel
Priming of cleaned parts
Spray painting of successive paint layers (airless painting of steel structures),
We perform painting of steel structures using highly efficient and extremely effective painting systems. Efficient painting is ensured by modern spray methods for perfect structure coverage in a short time. Paint applied this way will not chip or peel. This is why cleaning and painting of steel structures is essential.
At Sursys, we do not paint ready-made structures to order, we only paint structures that we have manufactured ourselves. The price of painting a structure is determined individually.
C1-C5 anti-corrosive surface protection of steel structures
Metals are particularly vulnerable to corrosion, especially when they are in humid environments or outdoors. This is why we offer our customers corrosion protection for steel structures. We coat steel constructions according to the current EN ISO 12944-2 standard, which provides the categories (classes) of corrosivity of the atmosphere:
C1 – very low corrosivity
C2 – low corrosivity
C3 – medium corrosivity
C4 – highly corrosive
C5 – very high corrosivity
The corrosivity categories defined for a given environment are critical for the selection of the optimal corrosion protection painting system. We approach each order individually offering our comprehensive assistance, from advice, through contracting to advice on the use. Should you have any questions or concerns, please feel free to contact our Sales and Marketing Department. We will be happy to answer all your questions and prepare a free quote!