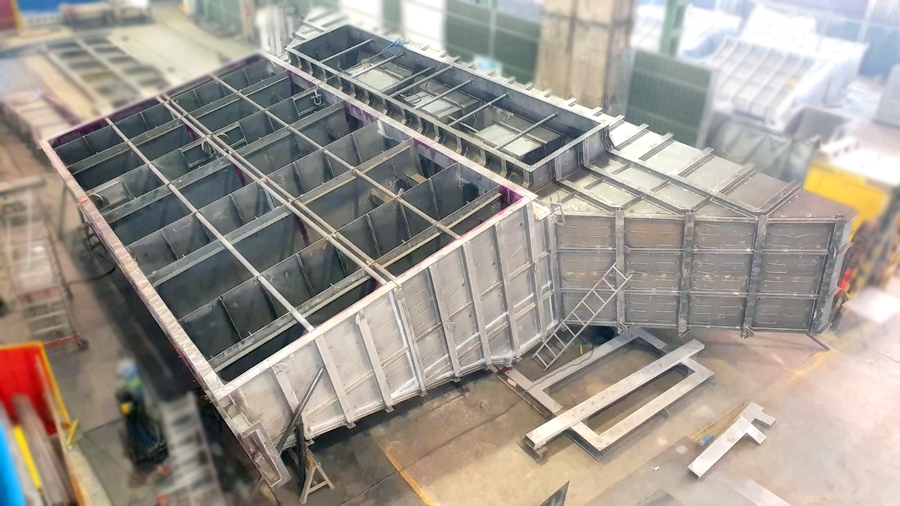 Steel structures are buildings with the load-bearing elements made of steel. They are widely used in construction and industry where they form a solid basis for the creation of, among other things, production and storage halls as well as commercial buildings. However, it is not just a hall, warehouse or container, but it can also include ladders, railings and unloading platforms.
Manufacturer of steel structures
Sursys has been involved in steel structures since its inception. Many years of experience as a manufacturer allows us to offer durable and strong elements, distinguished by their high quality on the market. We design and manufacture reliable welded support, load-bearing, construction, industrial and other steel structures for demanding customers. We offer them in various sizes and steel grades, all in accordance with individual orders. Our designs are based on the European 1090 standard. We manufacture them on the basis of technical drawings and individual specifications provided when placing the order. With our specialised staff, who have the relevant qualifications and experience, and the use of professional design and construction software, we are able to create a variety of projects based on individual technical specifications.
Steel structures – Europe-wide delivery
 We supply our robust and durable steel structures throughout Europe. By prior arrangement, finished steel structures can be collected on the spot, straight from our production hall in Bytom. You can pick up the delivery yourself or arrange a forwarder.
Choose our steel structure
Our steel structures are made from:
carbon steels;
boiler steels;
wear-resistant steels;
stainless steels;
acid-resistant steels;
ferritic and austenitic steels;
dissimilar steels, copper in combination with carbon steel.
We offer structures made exclusively of certified materials. In addition to the standard material certificate 3.1, 3.2 material certificates are also available on request. We offer a two-year warranty on our products with a possible extension.
All welding work for fan housing production is based on proprietary technology using the following methods:
141 TIG (tungsten inert gas). Welding with a non-consumable electrode in inert gas (argon) shielding;
135 MAG (metal active gas). Semi-automatic active gas shielded welding with solid wire.
136 semi-automatic active gas shielded metal-cored wire welding method.
111 manual welding method, covered electrodes – special application.
Should you have any questions or concerns, please feel free to contact our Sales and Marketing Department.