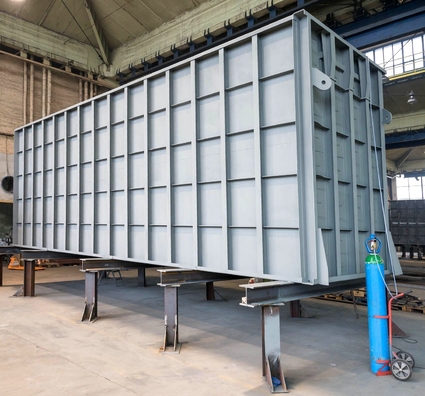 We manufacture high-quality welded heat exchanger housings up to 20 meters in size.All housings are made in accordance with the technical drawing and information provided by the customer when  placing the order.
Our heat exchanger housings are made only of certified materials.In addition to the standard 3.1 material certificate, we also provide certificate 3.2 at the customer's request.We provide a two-year w
We provide delivery of finished arranty for all casings manufactured by our company.According to the individual request of the customer, the warranty period may be extended accordingly.
products throughout Europe. After prior arrangement, we also enable personal pickup of finished products from the production hall in Bytom by the client or a transport company hired by the client.
All welding works related to the production of fan housings are carried out in accordance with our own technology using the following methods:
141 TIG method (tungsten inert gas). The method of welding with a non-consumable electrode in an inert gas shield (Argon),

135 MAG method (metal active gas). Semi-automatic welding in active gas shield with solid wire,

136 a method of semi-automatic welding in active gas shield with a wire with a core

111 manual welding with coated electrodes - special application.
If you have any questions or concerns feel free to contact our Marketing Department.